Local Parks & Playgrounds – North of 410
Blossom Park
Amenities:
Basketball Goal
Bike Rack
Picnic Table
Playground
Softball Field
Tennis Court
15015 Heimer Rd, San Antonio, Texas, 78232
Amenities:
Fishing pier
Permanent restroom
Picnic units with grills, including one handicapped-accessible unit
Playground
Volleyball court
Trails
Paved roads and parking lot areas
9-hole Disc (Frisbee) Golf Course
Bird observation blind
Boat dock
Butterfly garden
Controlled-access gate with admission booth
Covered pavilion -seats 75
1 City Lake Road, Boerne, Texas, 78006
Amenities:
Athletic fields
Picnic and camping areas
Playgrounds
Recreation buildings
Tennis courts
106 City Park Road, Boerne, Texas, 78006
Boerne Skate Park
Amenities:
Public Restrooms
WiFi (limited)
Drinking Fountians
Picnic Tables
Parking
524 Adler Street Boerne, TX 78006
Bonnie Conner Park
Amenities:
Pavilion
Walking Trails
Playground
Benches
13345 Woller, San Antonio, TX 78249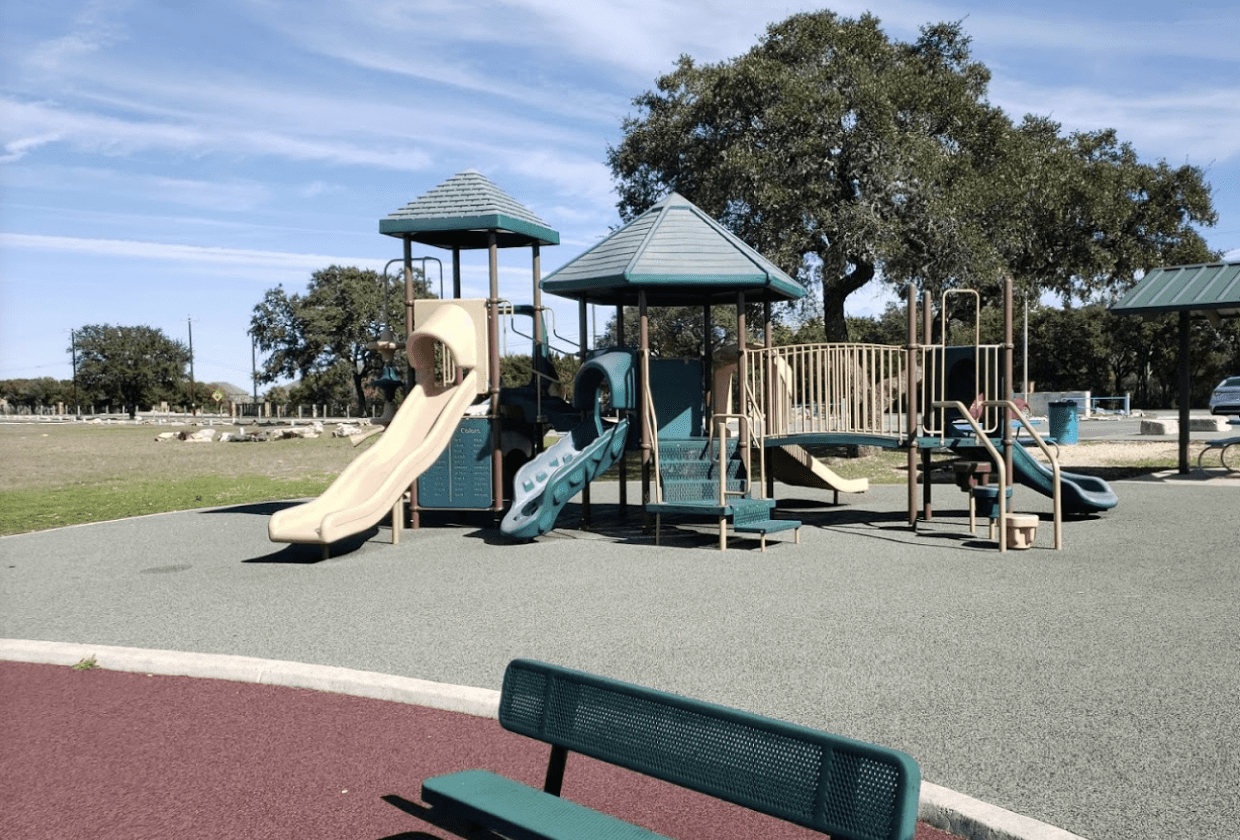 Bullis County Park
Amenities:
Kite-flying
Shaded Picnic Tables
Playground
Soccer Field
Little League Ball-field
27583 Blanco Road, San Antonio, Texas, 78258
Eisenhower Park
Amenities:
Playground
Hiking Trails
Pavilions
19399 NW Military Hwy, San Antonio, Texas, 78257
Emmitt Park
Amenities:
Basketball Courts
Pavilions
Splash Pad
Amphitheater
Playground
Walking Path
Located on Community Bible Church grounds.
2477 N Loop 1604 E, San Antonio, TX, 78232
Gorrell Park
Amenities:
Walking Trail
Picnic Areas
Playground
4802 De Zavala Road, San Antonio, Texas, 78230
Kinderpark
Amenities:
Covered Pavilion
Picnic Table
Benches
Playground
Home of the longest slide
111 Water St, Boerne, Texas, 78006
La Cantera Play Area
Amenities:
Pleasant Walking Path
Children's Play Area
Outdoor Eating Facilities
Water Path
Play area is situated near Macys.
15900 La Cantera Pkwy, San Antonio, Texas, 78255
McAllister Park
Amenities:
Baseball Field
Bicycle Trail (Paved)
Bicycle Trail (Unpaved)
Bike Rack
Dog Park
Grill
Multipurpose Field
Pavilion / Gazebo
Picnic Table
Playgrounds
Portable Toilet
Public Art Display
Restrooms
Soccer Field
Walking Trail
Trail Length 15 mi.
Water Fountain
13102 Jones-Maltsberger, San Antonio, Texas, 78247
Olympia Park
Amenities:
Playgroud
Pavilion
Basketball Court
Softball Field
Restrooms
399 Olympia Dr, San Antonio, TX 78213
Amenities:
Basketball Court
Pavilion
Trails
Playground
9606 Bandera Rd, San Antonio, TX
Orsinger Park
Amenities:
Trails
Playground
Picnic Pavilion
Rental Kitchen Facility
12230 Huebner Rd, San Antonio, Texas, 78230
Amenities:
About This Park:
Kids get active at Phil Hardberger Park's beautiful playscapes for children ages two to 12.
Kids climb and play on a variety of equipment, including swings, a Tsunami slide, a carousel, a double-arch climber, a rock and ride, an Intensity Atomic Fitness Play Complex, and a Circuit Play Kids Fitness Course. Rubberized ground cover makes for soft landings and is stroller-friendly.
Playscapes in PHP East and PHP West have picnic areas and parking nearby. PHP West also has basketball courts and open fields for playing.
(East Entrance) 13203 Blanco Rd 78231
(West Entrance) 8400 NW Military 78231
13203 Blanco Rd, San Antonio, Texas, 78231
Amenities:
Tracks
Pavilion
Handicap Accessible Playground.
Picnic Tables
6440 Evers Rd, Leon Valley, Texas, 78240
Raymond Russell Park
Amenities:
Cooking grills and barbeque pits
Kitchen facilities
Pavilions
Picnic tables
Playground
Restroom facilities
Tennis, baseball and soccer fields
20644 IH 10 West, San Antonio, Texas, 78257
Rhode Park
Amenities:
Picnic Tables
Playground
11777 Spring Rain, San Antonio, Texas, 78249
San Juan Brady Park
Amenities:
Basketball Goal
Bike Rack
Multipurpose Field
Tennis Court
2307 S. Calaveras, San Antonio, Texas, 78207
Scenic Park
Amenities:
Picnic tables
Walking Trails
Playground
7000 Prue Road, San Antonio, Texas, 78208
Amenities:
Parking
Restrooms
Drinking Fountain
Amphitheater
River/Creek
Trails
Playground
20395 Stone Oak Parkway, San Antonio, Texas, 78260
Amenities:
Playground
Trails
Pavilion
12603 West Ave, San Antonio, Texas, 78216